Now there's a tricky question. Darkness is one of the most important criteria in good wine storage. To develop properly, the wine must be protected from UV rays, which can damage the tannins. But wine lovers also want to show off their collection. So what can be done?
A solid door is extremely robust and allows no light inside the cabinet. This is a great option if you want to install your wine cabinet in a laundry room, garage or storeroom.
ArteVino solid doors have enhanced insulation properties, which means they can manage greater temperature variations. And don't worry, if the temperature in the room is likely to drop very sharply when the weather gets cold, all our ArteVino wine cabinets have a winter setting.  To guarantee high quality performance whatever the season, all our ArteVino wine cabinets have a winter setting.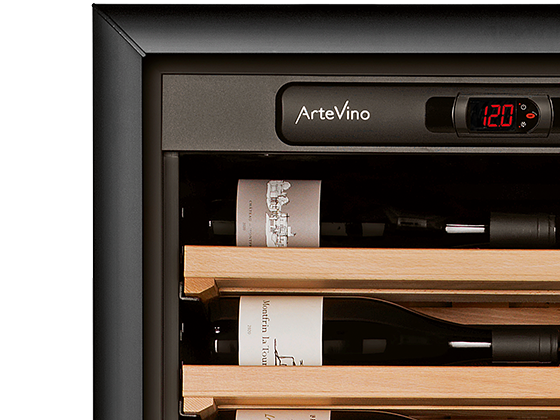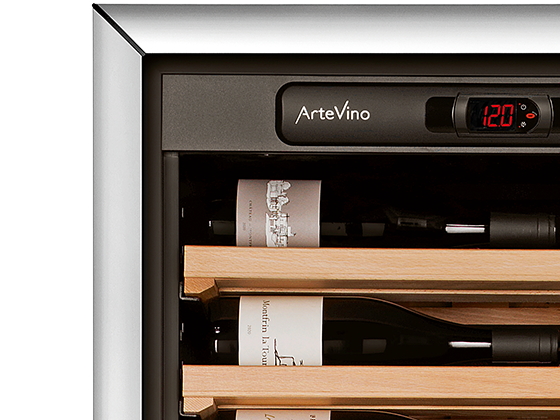 If you would like to keep your wine cabinet in a living room or kitchen and enjoy displaying your bottles, choose a glass door, whether you decide on an ageing or service cabinet.
All ArteVino models fitted with a glass door are double-glazed, treated with anti-UV protection and reinforced with Argon gas. The doors filter out 97% of UV rays and provide excellent insulation for your cabinet, which means your bottles are completely safe. However, we advise you against installing your wine cabinet facing direct light or near a source of heat.