When choosing a wine cabinet, you need to decide what you want to use it for : ageing the wine, keeping it at serving temperature, or both.
ArteVino offers four types of wine cabinet.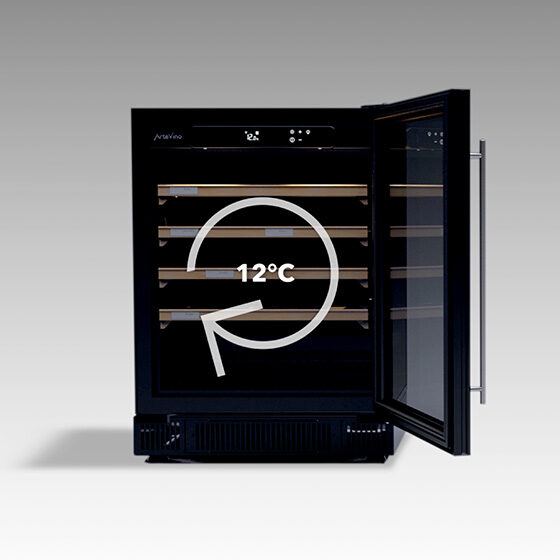 One uniform temperature
Ageing wines
For long-term wine storage or ageing (5, 10, 20 years or more). The ageing cabinet recreates the ideal environment of a natural cellar, meeting the six criteria for effective wine ageing.
A single, uniform temperature throughout the cabinet. We advise you to set it to 12°C / 54°F, which is the ideal temperature for ageing any type of wine.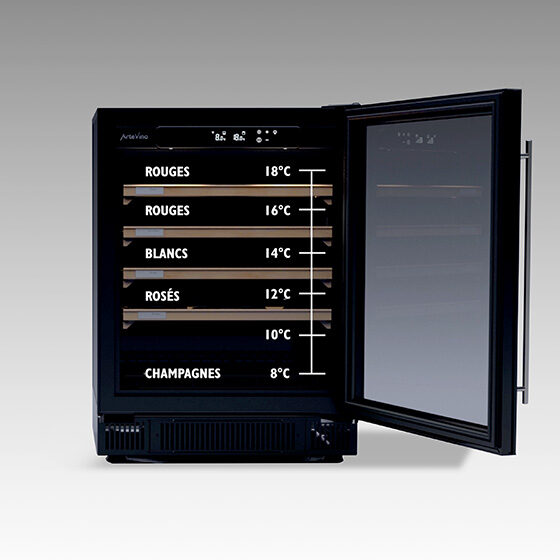 Multi-temperature settings
Get your wines ready for tasting
While ideally, a wine should be left to age at between 12°C and 14°C / 54°F and 57°F, it is not necessarily best to drink it at that temperature. The service cabinet, also known as the multi-temperature or staggered temperature cabinet, allows you to keep your wines for up to 2 years and to bring them to the ideal tasting temperature, whatever their colour, before serving them at the table.
The temperature inside the cabinet gradually increases from bottom to top. It ranges from 6°C / 43°F, for chilling sparkling wines, to 20°C / 68°F for bringing your red wines to the ideal tasting temperature.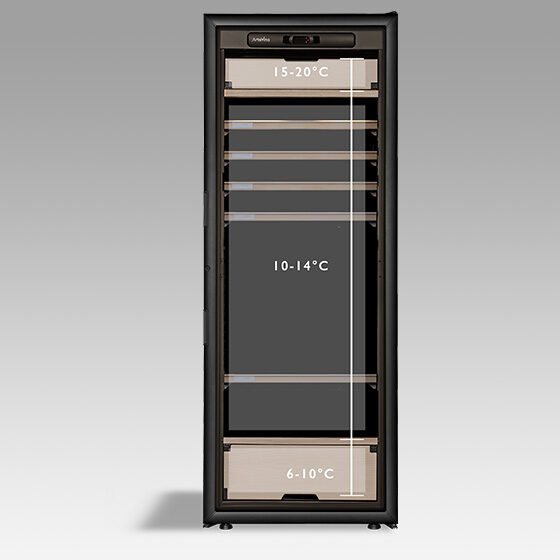 Multi-purpose wine cabinet

3 compartments – 3 temperatures
Store, age and prepare wines for tasting
This cabinet is the most versatile because it has several purposes. It is designed for ageing and storing your bottles, as well as bringing them to tasting temperature. No need to sacrifice one for another!
The multi-purpose cabinet has three independent temperature zones. A central zone for storing wine at a uniform temperature that can be set to between 10°C and 14°C / 50°F and 57°F. A zone at the bottom of the cabinet for chilling the wines (4°C to 6°C / 39°F to 43 °F) and a zone at the top of the cabinet for bringing your red wine to tasting temperature (15°C-20°C / 59°F-68°F).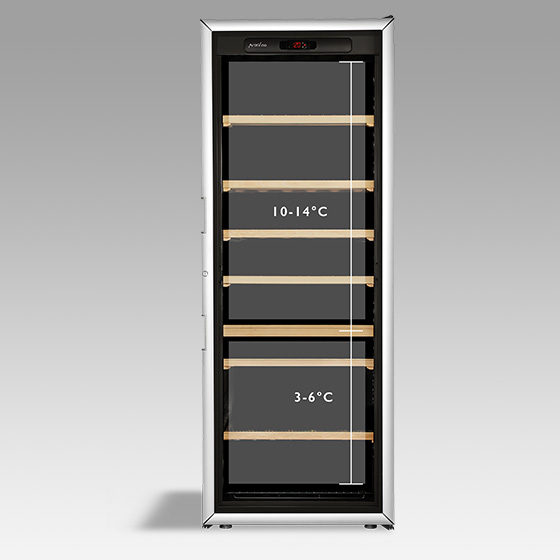 2 compartments – 2 temperatures
Store wine and serve cold drinks
Always be ready to host, whatever your guests like to drink before dinner. This cabinet stores your wines perfectly and has an additional area to chill other drinks. The compartment at the bottom of the cabinet has a removable drinks tray to keep all types of cold beverages at their ideal temperature (fruit juice, soft drinks, beer, rosé, etc.)
Our multi-beverage cabinet has two separate compartments for different uses: the main compartment can be set to between 10°C and 14°C / 50°F and 57°F to store your wine, while the lower compartment can be set to between 3°C and 6°C / 37°F and 43°F to chill any type of cold drink.