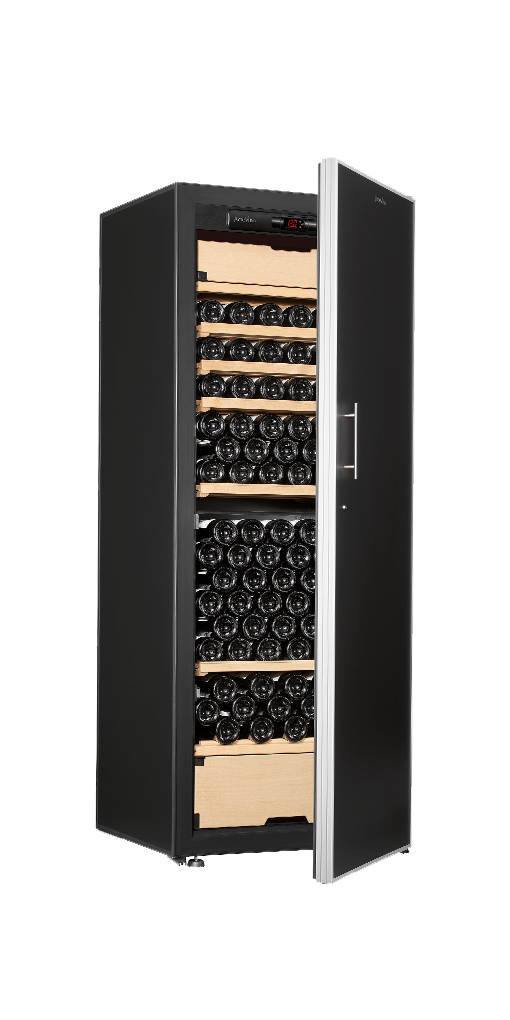 Multi-purpose wine cabinet

Designed to offer your bottles the best protection and ensure your wines are stored properly in the long term. This multi-zone wine cabinet has three separate compartments for different purposes: the central compartment for storing wine, the upper compartment for bringing bottles of red wine to the correct temperature, the lower compartment for cooling bottles of white wine and champagne.
Specificities
Dimensions
H 1825 x L 680 x P 725 mm
Design
Cabinet colour :black
Door: solid black, for optimal insulation. Can be installed in an unheated room (from 0°C to 35°C).
Temperatures
3 separate compartments.
The temperature range starts at 4°C and reaches 20°C. From 15°C to 20°C in the upper part of the cabinet and from 10°C to 14°C in the central part.
The temperature at the bottom of the cabinet, or cooling compartment, is determined by the temperature programmed for the ageing zone. The temperature gradient between these zones is between 4°C and 6°C.
Equipment
Supplied with 6 universal shelves in beech wood 2 wood compartments. A single shelf can also be installed to slide in and out, for basic storage or to showcase the bottles, and can hold all types of bottles.
Energy data
Class F(2021 Regulations) – Click here to download the product information sheet.
Quality
Inside walls in aluminium to provide good insulation, reduce odours and condensation.
Safety
Visual alarms for temperature faults
Made in France
Made in France at our factory in the Nord department, "Origine France Garantie label".
Téléchargements >