Building a wine cellar: the golden rules

Many wine lovers dream of a well-stocked cellar. But be careful! Some places definitely shouldn't be used to store wine. What do you need to do to keep your bottles in the best condition? What solutions are available? ArteVino shares its expert advice.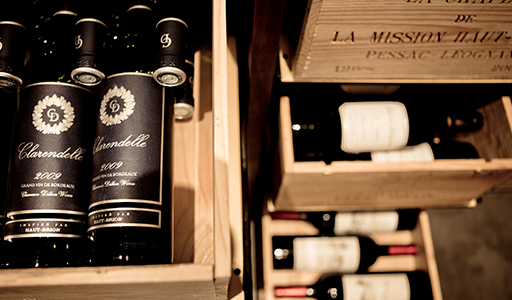 1. What are the essential criteria to keep in mind when building a wine cellar?
Wine is a living thing; it is spontaneous and unpredictable. Its aromas evolve gradually and it is very sensitive to its environment. To get the very best from your wine every time you taste it, it must be stored in the right conditions. That means your wine cellar must meet several criteria:
Humidity

Keep it between 65% and 80% to ensure your wines stay precise and delicious. Low humidity causes the corks to dry out, the wine to evaporate, and its flavour to disappear. On the other hand, excess humidity can lead to mould and label damage.

 Isolation

Vibrations can accelerate chemical reactions inside bottles and influence a wine's ageing process. The best thing to do is store it in a quiet, vibration-free room, away from pipes and especially your boiler.

Darkness

Light is harmful to wine as it ages because it damages tannins. To keep your bottles safe, your cellar must be protected against any form of light. Candlelight or a low-energy bulb are the best options.

Ventilation

A wine cellar is a humid environment in which mould, fungi and bacteria can thrive. You should open the cellar door regularly to allow the air inside the cellar to circulate.

  Temperature

Your cellar should be at a constant temperature of 12°C / 54°F. It is important to avoid variations because they affect how quickly the wine ages

Organisation

Whether you use compartments, cabinets or shelves, your wine cellar layout must be able to accommodate any bottle shape. And your bottles must be protected.
If you're in a city or a flat, basements and garages are not usually suitable places to store your wine. There are large variations in temperature, which are often fatal to wine. Your bottles may become damaged and lose their aromas.
Designing a wine cellar is complex and sometimes requires building work. If your home doesn't comply with preservation criteria, there is a simple, beautiful, and effective solution: the electric wine cabinet.
How to respect the criteria of wine preservation?
A wine cabinet brings together all the criteria required for optimal wine maturing, allowing you to recreate the ideal storage conditions found in a natural cellar, but at home, on a smaller scale.
read more
https://www.artevino.fr/wp-content/uploads/2022/05/illustration-vectoriel-comment-bien-conserver-son-vin-1.webp
1120
440
ArteVino
ArteVino
https://www.artevino.fr/wp-content/uploads/2022/05/illustration-vectoriel-comment-bien-conserver-son-vin-1.webp
2. The electric wine cabinet: an efficient and elegant solution

Practical and ergonomic, an electric wine cellar stores your bottles under the perfect conditions, even in a city-centre flat. Do you need any more good reasons to choose a wine cabinet? It offers all the conditions of a natural cellar, so you can enjoy your wines at just the right temperature!
An electric wine cabinet is a beautifully designed contemporary object that fits perfectly into any interior (kitchen, living room, etc.). Depending on your preferences, it can stand alone or be integrated into your units.
It is very easy to use and has several advantages:
Provides the best possible storage conditions: precise temperature management, dark environment, humidity control and distribution, etc.

Allows you to serve your wines at the right temperature to fully appreciate their aromas.

Stores your favourite bottles close at hand. A visible wine cabinet is an invitation to taste and transforms your room into a place for enjoyment, parties or quality time with friends.
ArteVino, wine cabinets à la française
For over 25 years, ArteVino has been promoting its wine cabinet offer to suit any wine lover's home, preferences, and favourite bottles! Elegant, silent and adjustable, our wine cabinets are companions for life that make no compromises on storing and bringing bottles to temperature. Our products carry the Origine France Garantie label and are designed to the most exacting standards in Fourmies, in the Nord department of France.
Learn more